VEC-821KC, KIT CASE, SUPER CW FILTER/AMP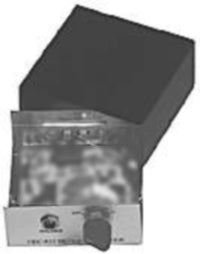 VEC-821K Matching Kit Cabinet
All metal cabinet for the CW filter kit with 1 Watt Audio Amplifier VEC-821K. Comes complete with knobs, hardware and rubber feet, and has brushed aluminum looking front panel decal.
Turn your VECTRONICS VEC-821K 1 Watt Audio Amplifier into a fabulous show piece! Add our custom all metal cabinet and knob set to complete your kit!
You will get an attractive custom designed cabinet for your VEC-821K 1 Watt Audio Amplifier kit. It features a scratch-proof vinyl covered top and professional looking front and rear decals that look like nice, brushed aluminum. This rugged all metal cabinet will give you years of enjoyment. You get a complete cabinet kit that includes all assembly hardware, front and rear panel decals, and self adhesive rubber feet. This cabinet is custom designed on Vectronic`s powerful CAD stations and directly downloaded into our world class computer controlled Amada turret punch presses. Each cabinet is precision bent and formed by Amada bending brakes. Each Vectronic`s custom cabinet kit is made in the USA.
Product Manuals
Download Product Manual