XM-240, Beam,Monoband,2 ele. 40M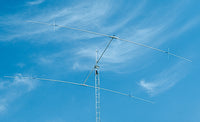 XM240 Big Thunder Monobander

Cushcraft's XM240 monobander utilizes rugged Big Thunder hardware that combined with high strength aluminum tubing affords the antenna outstanding wind survivability. Phillystran boom trusses are used in the XM240 design for extra boom stability. The feed system is a 50 ohm direct feed VSWR is flat across the band. A high power 1:1 balun is included. The XM240 is field-proven or reliability and performance. Excellent front to back ratio and gain makes the XM240 the right choice for DX and for stacking as well.
Product Manuals
Download Product Manual