MFJ-108B, CLOCK, LCD 24/12 HOUR DUAL CLOCK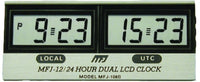 MFJ Dual 12/24 Hour LCD Clock
Read both UTC and local time at a glance with our dual 12/24 hour LCD clock that displays 12/24 hour time simultaneously!

Mounted in a brushed aluminum frame, our 12/24 Hour LCD Clock features huge, easy-to-read 5/8 inch LCD numerals and a sloped face that makes it easy-to-read across the room.

You can synchronize the two clock faces to WWV for split-second timing. The clocks are quartz controlled for excellent accuracy.

Long-life battery included. The clock measures 4.5W x 2.5H x 2D inches.
Product Manuals
Download Product Manual