MFJ-148RC, DUAL TIME LCD CLOCK, ATOMIC W/GMT ZONE, ID TIMER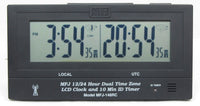 MFJ Radio-Controlled 24/12 Hour Dual clock

MFJ-148RC is a specially designed clock for amateur radio. It has two independent atomic 24/12 hour clocks with exclusive UTC time zone and a dedicated Station ten minute ID timer.

It uses a single time base to keep both clocks perfectly synchronized.

It is radio controlled so it keeps perfect time. Each clock can be independently set for 12 or 24 hour display, time zone and DST on/off.

Set one clock on 12 hour format for local time and the other clock on 24 hour format for UTC.

Turn DST off on the UTC clock and you will never have to worry about time changes messing up the UTC time again.

Never forget to ID again.

Built-in 10 minute station ID timer with LED and buzzer alerts.

Timer resets by a simple press of the timer switch.

Huge 5Wx1.5H LCD display with LED backlights.

Flip stand for desk display and mounting hole for wall mount.

Uses two AA batteries (not included).

Black hard plastic cabinet is 6.5W x 3.5H x 3/4D inches.
Videos