MFJ-553, DELUXE WOOD BASE TELEGRAPH STRAIGHT KEY W/3.5MM PLUG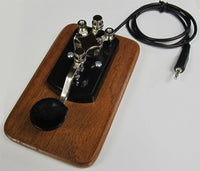 MFJ-553 Deluxe Wood Base Telegraph Key
The MFJ-553 Deluxe Wood Base Telegraph features a Morse Code straight key on a non-skid, beautifully stained wood base. It has a steel base under the bottom so it stays put on table and doesn't move around while you are sending!

The MFJ-553 lets you send code at home, work, riding in your car -- practically anywhere -- because it's so easy to take wherever you go.

Hook up the straight key to your transmitter and go on-the-air sounding like you were born working QSO's and look good doing it. Pre-wired plug is a stereo plug, wired for tip and sleeve connections, for those radios that require the use of a stereo plug. Of course, it works with radios that require mono connections whereas the ring on the plug is not connected. Don't pass up this super CW buy!

It measures 5¾"L x 3½"W x 2"H and comes with MFJ's famous one year 'No Matter What' warranty!

Product Manuals
Download Product Manual