MFJ-566M, CW TELEGRAPH KEY, ON HEAVY METAL BASE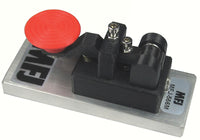 Specification & Description:

Red/Black Micro Morse Code Key with aluminum base.
Liquid smooth and shielded steel ball bearings.
Hardened steel pin rotation and stainless steel screws.
Solder connections and solid brass contacts.
Includes a 3/8" thick aluminum base and micro-grip feet.
Supplied with 3ft 3.5mm open ended stereo cable!