AV-6160, HF VERTICAL, 160-6M, 1500 WATTS, 43FT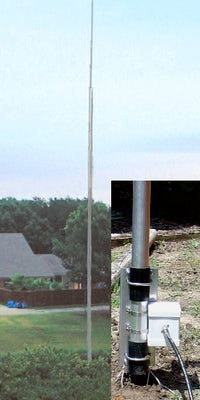 We present to you the HyGain AV-6160, an innovative addition to the realm of vertical antennas. Let us explore its distinguished features.
Comprehensive Coverage:
The HyGain AV-6160 is a 43-foot (13.1 meters) self-supporting vertical antenna that seamlessly covers a wide range of frequencies from 160 through 6 Meters. And the best part? You can achieve this extensive coverage with the aid of an antenna tuner.
Lightweight Design:
Weighing in at a mere 20 lbs. (9.07 kg), this antenna is a breeze to handle. Its wind load is impressively low at just 2 square feet (0.19 square meters).
Robust Build:
The antenna boasts a diameter of 2 inches (5.08 cm) OD at its base and is crafted from 0.120" thick-walled tubing. Comprising nine sections, including a stainless steel whip, this antenna is built to withstand the elements.
Minimalist Aesthetics:
The top 9-foot (2.74 meters) section is made of a 1/8 inch (0.32 cm) diameter solid stainless steel whip. This design ensures the AV-6160 has the lowest wind-loading, making it the least visually intrusive 43-foot vertical antenna available. Its entire length radiates, guaranteeing optimal performance.
Stealth Mode Activated:
For those residing in antenna-restricted areas, the AV-6160 is a dream come true. Its inconspicuous design resembles a tall tree or flagpole. You can even adorn it with a flag! Conceal it behind trees, fences, or buildings, or simply tilt it over during the day. Its lightweight nature allows for discreet nighttime installations and easy takedowns in the morning. Plus, with the ground mounts, you can completely camouflage the antenna base.
Superior Performance:
The AV-6160 comes with a legal limit balun at its base and offers exceptional low radiation angle performance on 17 meters and below, ensuring good DX. For the higher bands, its performance remains commendable. If you wish, you can even shorten it for enhanced low angle radiation on the higher bands. And guess what? It includes Hy-Gain's ATB-65 Ground Mount Base Kit.
Low SWR:
Experience low SWR across the full 160-6 Meter frequency range with an antenna tuner. Whether you're using an external antenna tuner or many transceiver internal antenna tuners, you can effortlessly match this antenna across the entire frequency spectrum. And with high-quality, low-loss coaxial cable, feedline losses due to SWR are negligible, typically less than 1/2-dB.
Durability at its Best:
The HyGain AV-6160 is constructed using the robust 6063 corrosion-resistant aircraft-strength aluminum tubing, complemented by stainless steel hardware. This antenna is not just built to perform but also to last.
Hassle-Free Assembly:
No need to spend endless hours setting it up. The AV-6160 can be assembled in about an hour, making it perfect for portable uses like field day, DXpeditions, and more.
In conclusion, the HyGain AV-6160 stands as a testament to advanced engineering and design in the world of vertical antennas.
Whether you're a seasoned ham radio operator or just starting, this antenna promises to elevate your radio adventures.
Product Manuals
Download Product Manual