PM-30, HF WATTMETER, 300/3000W, 1.8-60 MHz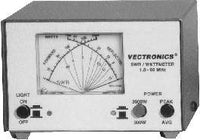 PM-30 can simultaneously measure and display forward power, reflected power and SWR in the frequency range on their dual movement meter system.
Accuracy of the readings is assured because these SWR/Power Meters feature a true shielded directional coupler.
The backlit meter can also display either peak or average power readings. Optional 12 VDC adaptor.
First rate construction includes scratch proof Lexan front panel.
SO-239 Connectors.
Product Manuals
Download Product Manual