PM-30UV, 144/220/440 MHz WATTMETER, 30/300W, SO-239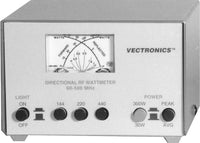 Can simultaneously measure and display forward power, reflected power and SWR in the frequency range on their dual movement meter system.
Accuracy of the readings is assured because these SWR/Power Meters feature a true shielded directional coupler.
The backlit meter can also display either peak or average power readings. Optional 12 VDC adaptor. SO-239 Connector.
Product Manuals
Download Product Manual